Maintaining Your Personal Collection
Contents
Introduction
The ability to maintain what albums you personally own is a very desirable feature for collectors. By maintaining a database of all albums released by an artist, creating a personal item for those that own provides a visual indicator in all album explorer lists. These can be easily be identified by the check mark icon

in the explorer list.
Creating Personal Collection Items
The Personal Collection is used to maintain and view all information pertaining to your personal collection. It has the familiar Artist, Media and Show drop-down boxes at the top of the window. Beneath the Artist drop-down box are two radio buttons for sequencing the album explorer. By Item will display your personal items alphabetically at the top of the album list and the remaining albums at the bottom. By Album will display the items in a traditional alphabetical list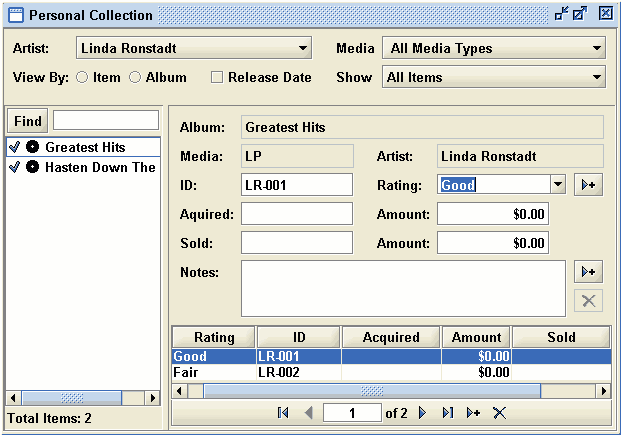 Figure 1 -- Personal Collection window
To create a personal item, click on any album title in the album explorer. A confirmation window will appear. If you select the YES option, the view section will be updated with default values, and an entry will be added to the table at the bottom of the view. you can then enter the appropriate information. At a minimum, setting the rating should be done. The ID text box can be used to code your albums with a unique identifier.
If you have multiple copies of the same album, add an additional row to the table by using the Add row

button in the table navigator. Again the information at the top of the window will be filled with default values that you can update as above.
Deleting Personal Collection Items
To completely delete a personal collection item, delete all table entries using the Delete row

button in the table navigator. When the last row is deleted, a message will appear asking for confirmation to permanently delete the personal collection item. If you choose the YES option, the item will be permanently deleted from the database. Choosing the NO option will cancel the deletion and the last table row will be restored.
---