Introduction To Your MusicDB
Contents
Welcome to Your MusicDB
Your MusicDB has been designed to provide a means for easily maintaining music collections for all types of media (LPs, CDs, books, etc.) It is written using Java, so it will run on any operating system that supports Java2 (1.3 or higher). The Java runtime environment is freely available for Microsoft Windows and many other operating systems from the Sun Corporation.
Key Features:
Runs on any Java enabled platform (1.3 or higher)
Free artist databases (as they become available)
Full search capability, by song or album
Configurable "Look & Feel" plus skins
Special large font "Look & Feel" for visually-impaired
Import data from text files
Multiple artists in same database
Extensive notes capability by song or album
Maintain cover images
Data stored only once and re-used when needed to minimize storage requirements
Pre-defined reports
Integrated report designer for creating custom reports
Merge databases of individual artists into a single database
Create individual artist database from a multiple artist database
Automatic database compression to minimize storage requirements
Minimum Requirements
The minimum requirements for running:
CPU Intel Pentium Compatible Processor at 400 MHz or higher
RAM Minimum 64MB, but 128MB is recommended.
Disk space 5MB free disk space recommended.
Operating systems Microsoft Windows (98, ME, NT, 2000 or XP), Solaris, Linux, Unix and all other Java-enabled platforms running Java 1.3 or higher
Terminology
For ease of use, most windows use explorer/view model. The explorer is on the left side of the window and displays a scrollable list of items (songs or albums) and the view occupies the right side showing the detail for the selected item in the explorer. Your MusicDB also uses tables extensively with a convenient navigator at the bottom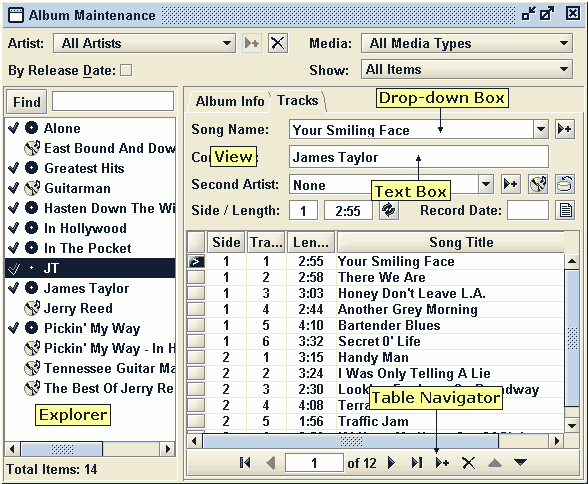 Figure 1 -- Explorer-view model
Table Navigator Buttons
The navigator buttons can be used to change the selected table row, add new rows, delete rows, and move rows up or down. Some if the buttons will only appear in the navigator when the operation is available. The text box

displays the current selected row along with the total number of rows in the table.
| Button | Description |
| --- | --- |
| | First Row |
| | Previous or up one row |
| | Next or down one row |
| | Last row |
| | Add a new row below selected row |
| | Delete selected row |
| | Move selected row(s) up |
| | Move selected row(s) down |
| | Display more information |
Explorer Icons
The icons below are used in album explorers to provide a visual indication of the album type.
| Icon | Description |
| --- | --- |
| | Cassette or 8-Track |
| | CD, CD-2Fer, Mini-CD |
| | 8-Track |
| | DVD |
| | LP, LP-10", 45 RPM |
| | Book-Text |
| | Book-Music |
| | Albums In personal Collection |
| | Video |
| | All other media |
Web Site Links
| | |
| --- | --- |
| MemTurbo | A utility that sells for $19.95 and recaptures fragmented memory on Microsoft Windows machines. Recapturing fragmented memory greatly reduces the dreaded Blue Screen of Death and constant reboots that we all experience so often. This is the one that I use, although there are many others to choose from |
| pdfFactory | A great print utility that sells for $49.95 and creates PDF output from any Microsoft Windows program. A free version is available, but displays a message at the bottom of each page. Very useful during report design to preview the entire output of a printed report before sending it to a printer. Many trees can be saved!!!! |
| Registry Cleaner | A free utility to clean the Miscrsodt Windows reistry. Keeping your system registry clean enhances system performance |
---